Juline and Bob Behrens skipped their SilverSneakers workout Friday morning for waitresses Michele Thiel and Staci Probus.
The 31-year Lake Elsinore residents were among about 20 family members and Annie's Café regulars that gathered at Skydive Elsinore, otherwise known as The Drop Zone, to watch two of their favorite Annie's waitresses skydive for the first time.
The Behrens' even missed their almost daily morning stop for breakfast at the café, where the two can be found five out of seven days a week.
"We wouldn't have missed this at all," 68-year-old Juline said as 79-year-old Bob, aka "Boob," was taking photos with his point-and-shoot camera.
Thiel and Probus were given the skydiving opportunity as a gift from a longtime Annie's customer and former Skydive Elsinore employee.
Lisa Howery, known as the Drop Zone Mama, said she was happy to finally see some Annie's employees taking the plunge. Skydive Elsinore staff members are regulars at the popular restaurant and have been daring Annie's employees for a long time.
"They've tried to get them to do it," Howery said.
On Friday morning, both Thiel and Probus appeared nervous.
"I can't write straight," Probus said as she filled out a form, listing Annie's owner Jan Vyse as her emergency contact.
"Address — what's my address? How old am I? I'm hot. Are you hot?" Thiel asked Probus as she filled out her own form.
Both were sporting personalized T-shirts courtesy of Vyse. Each contained an Annie's logo and said "Annie's Girls know how to fly." Thiel also came with ladybug earrings, just in case.
"They fly. I thought they might help," Thiel said.
In between filling out forms and watching an instructional video, both Thiel and Probus dispensed hugs to the customers who came out to support their extracurricular endeavor. Many had camcorders and cameras. Jerry Rudulph had roses.
The 70-year-old Lake Elsinore resident was holding one rose while his mother, Lilian Wolfe, 91, was holding the other.
Both can be found at Annie's on any given morning, because they go "as often as I can afford to go," Jerry said. "It's the best place around."
"I have fun (at Annie's)," Lilian added. "We go there for the fun more than the food."
Thiel and Probus took flight finally about an hour after their scheduled departure and successfully landed with smiles across their faces.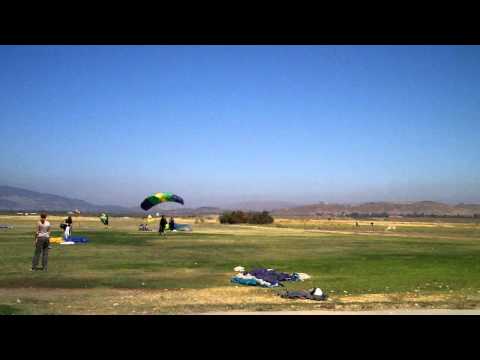 "I'm goin' again. I'm getting the money, and we're going again," Thiel said. "I am a bird. I am a freaking bird."
Probus, who landed after Thiel, was raving about the experience, as well.
"I'm coming back. Seriously. Whoo-hoo, made it. I'm, like, addicted," she said.
After explaining to their customer friends how it felt to be two-and-a-half miles up in the air, Thiel had to give one more official thank you.
"Thanks, everybody, for coming out, you guys. That was so cool of you," she said.
As for the Behrens, they still had one more thing to do.
"Annie's?" Juline asked Bob. "Annie's it is."
Email the reporter at rachael.recker@swrnn.com or follow her on Twitter