Read related: Daniel Rosa gets Twitter shout-out from Neon Trees
No doubt Neon Tree's "Animal" lyrics were taking on new meaning for Riverside resident Daniel Rosa as he sang on Sunday night's "The Voice" Season 2 premiere.
Yellow bowtie-sporting Rosa, 20, warbled "what are you waiting for" as he was waiting for Adam Levine, Blake Shelton, Christina Aguilera and/or Cee Lo Green to turn their chairs around during the blind audition, which would therefore show interest in putting the local singer on her or his respective team.
Unfortunately for Rosa, no one did.
But Rosa, who showed both humility and overwhelming emotion, not all was in vain.
Aguilera responded first to Rosa's performance after he became visibly emotional.
"It's all right. It's all right," she said, eliciting supportive applause from the audience.
"First of all, you are a beautiful singer. I was captivated by your voice. So don't think that just because none of us turned our chairs around that we weren't feeling it," she said. "In no way, shape or form does that mean that you're not a great singer."
Then Rosa, who said he felt it was a "blessing" just to have performed in front of the coaches, asked what he could work on in order to make his "Voice" appearance a learning experience. Both Aguilera and Shelton replied with "pitch."
Clearly nervous, Rosa had a rough start to the song. And though he improved his pitch and the power of his voice throughout the song, he couldn't quite shake the initial insecurity in his distinctive vocals.
Aguilera felt that Rosa's question alone proved he would do well in the future.
"That means that you're gonna be even greater," she said.
In addition to supportive comments from Aguilera and Shelton, friends, family and strangers took to Rosa's Facebook page to offer encouragement and praise. As Rosa himself noted on his wall, "my facebook exploded when i logged on."
Wrote Francisca Morales: "You did great on The Voice! Everyone on Twitter is talking about you "
…Cadens Stella: "I would listen to your music, I promise. "
…Diane Landaverde: "The first time I watched you play at the coffee depot I thought you were amazing! I hope you eventually get to where you want to be"
…Brittnee Maia: "Daniel!!! Me and my family were watching and you blew us away! You were fantastic and I love you man! "
…Nicole April: "Good job, don't worry about what they said, you did amazing "
"Thank you all for your nice words!!!" Rosa wrote in reply to many of the comments.
And in response to one commenter who couldn't believe she had seen him on TV, Rosa expressed the same sentiment: "It blew my mind too haha,"  later calling it an "amazing experience."
Even though a more confident performance likely would have provided Rosa with a different outcome on the show, it's also clear Rosa's musical career will blossom from this exposure.
Check out some or Rosa's YouTube videos below.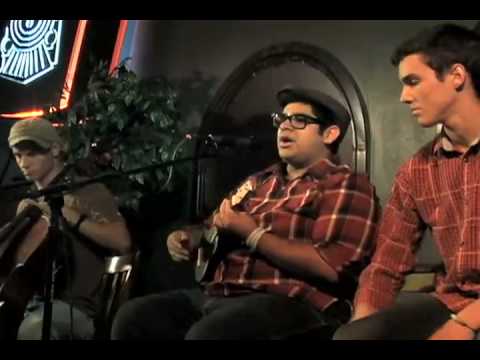 Email Rachael.recker@swrnn.com or follow her on Twitter