The sun poured down on Lake Skinner Sunday as high school students raced in the final sprint for the 2012 Solar Cup – the nation's largest solar boat program.
The annual event, which has drawn over 8,000 participants over its 10-year history, had 39 schools competing and over 400 students, families, and fans showing the culmination of seven months of effort in getting their boats outfitted and ready to show just what solar power can do.
"Saturday's races consisted of a 1.6 kilometer race around the buoys at the lake," Armando Acuna, manager of Media Services for the Metropolitan Water District of Southern California (Metropolitan) said.
A timed event, it was one of several heats in which competing students are judged for the ultimate prize.
Students are judged on the longer race, the sprint, a public service announcement they must create on water conservation, and the mechanical soundness of the boat they construct.
Julie Miller, head coordinator of the Metropolitan event said: "The competition has gone surprisingly smooth. With so many kids, and moving parts, I'm impressed by how well they all are working together."
The contestants began their work in 2011, building and racing solar powered boats, but also learning about conservation, engineering, critical thinking, and troubleshooting, according to the Metropolitan web site.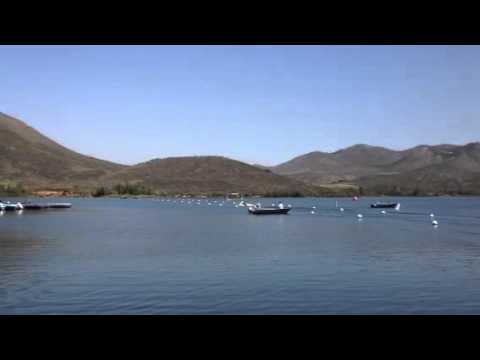 Huge tents kept the teams and their boats out of the sun, while solar panels gleamed, catching the 93 degree day at Lake Skinner. Music thumped, and kids lined up for barbecue hot dogs and lunch while the loudspeaker called for a team in need of a five-amp fuse.
"It's heartwarming when, even in a competition, kids do so much to help each other out. For example, Centennial High School helped Elsinore redo their steering yesterday. We've seen teams help with motors, and loan parts. Or fuses." Miller said, smiling. "They all must learn to work together under often stressful circumstances, especially when their boats break down."
According to the Metropolitan web site, teams are sponsored by either Metropolitan, or a participating member agency. Sponsors aid new teams, donating $4,000 for initial costs, while returning teams are offered $2,500.
Teams can borrow parts from one another, but all items must be carefully documented. The students must purchase their solar panels with the funds from the sponsorship, but can raise funds for non-boat related expenses, such as trailer, apparel, or food. Many teams camped at Lake Skinner for the duration of the competition.
Jillian Rock, a junior from Canyon High in Anaheim Hills — and team member for three years — skippered the boat to beat the New View II.
"It got 18 m.p.h., the highest (speed) yet." Jillian said. "I'm skipper of the sprint, because I love the speed," Jillian said."They've been our teachers since the beginning, helping us all work toward a common goal. Can't wait to do it again, next year."
For more information, visit www.mwdh20.com.
Ashley Ludwig is a local writer and regular contributor to SWRNN.