Stephanie Snyder, 25, grew up in the La Cresta residence that was lost to the Volcano fire burning near Murrieta today.
She said her parents, Rick and Sherry Snyder, are longtime residents and local business owners who are devastated by the loss of the family home.
"I got notice from my boyfriend and my sister-in-law that  a fire was burning pretty good in La Cresta and that my house was going to need to be evacuated," Snyder said.
Snyder said she raced home from her workplace in Rancho Cucamonga to find firefighters working feverishly to save the house.
"I could see the flames behind the home. It was pretty scary," Synder said, adding that fire had engulfed the surrounding palm trees.
"I don't know, the winds may have picked up or something, but the house slowly but surely started to burn," she said.
Snyder said firefighters stayed on scene as long as possible, watering down the house and surrounding structures in attempt to save the structure.
"I feel like they did everything they could," she said.
Video of La Cresta home lost to fire courtesy of Daniel Lane: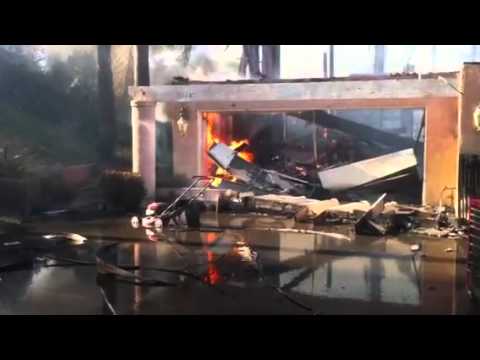 Snyder said that while she was grateful that there were no injuries, she mourned all of the family photos and personal mementos that were lost.
She added that she hoped people would remember her family in their prayers.
Snyder said: "This is probably the worst day of my life."
*Daniel Lane contributed to this report.