Update @ 4:33 p.m.: Officials report that the fire is now 100 percent contained.
According to a Riverside County Fire Department report, the blaze damaged one unoccupied residential structure, several outbuildings and one vehicle.
The firefighter who was injured sustained first-degree burns to two of his fingers.
Read more on area fires: Smoke from Warner Springs fire drifts into Temecula
Update @ 3:25 p.m.: According to a Riverside County Fire Department report, the fire has grown to 15 acres.
No mandatory evacuations are in place, but many residents have evacuated their homes on their own, the report said.
An inmate firefighter is being treated at a local hospital after suffering first and second degree burns on his hands.
One resident was transported to an area hospital with a minor injury not related to the fire, officials said.
Roads closures include Grand, south on Ridge Oak and north on Grey Eagle. Wesley Road is also closed.
Update @ 2:40 p.m.: According to a City News Service report, the fire that broke out today at a Wildomar intersection, quickly spread to 10 acres, burned trees and power poles and coming within feet of several homes.
Riverside County sheriff's deputies were the first to arrive and said flames were engulfing trees and drifting into the backyards of homes, according to reports from the scene.
Video courtesy of Daniel Lane: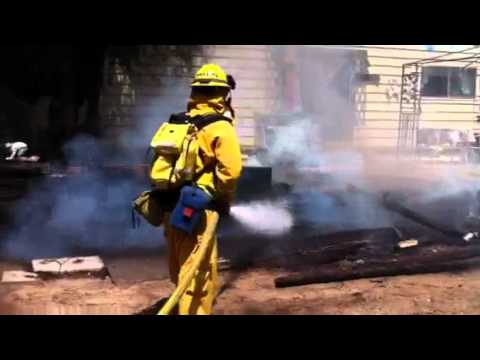 Twenty-eight county engine crews and five hand crews, numbering around 160 personnel, were working to contain the fire with the assistance of a water-dropping helicopter.
Deputies evacuated multiple residences along Wesley, between Grand and Union Street, as well as residences along nearby Ridge Oak Road, according to sheriff's officials.
In several instances, disabled and elderly homeowners required aid to get out of the area. As of 1:45 p.m., a temporary evacuation center was in the process of being set up, officials said.
The cause of the fire was not immediately known.
Original: At least 21 fire trucks and 4 air tankers are attacking a blaze in Wildomar near the intersection of Wesley and Grand, Riverside County Fire officials reported.
Witnesses on the scene are reporting that several structures are engulfed in flames.
Fire officials said the fast moving fire broke out around 1 p.m., and are estimating that at least ten acres have burned so far.
This is a developing story.
Check back for additional details and photos.
*City News Service and Kerri S. Mabee contributed to this report.