Update @ 12:52 p.m.: According to a Riverside County Fire Department report, forward spread of the fire has been stopped but not contained. The second fire is holding at 1-2 acres.
Original: Two separate fires ignited brush near Canterfield Drive and Rein Court in south Temecula, fire officials reported today.
The first fire, reported at 11:16 a.m., was quickly contained and charred a half acre.
The second fire broke out shortly after and fire crews are working to contain that one as well.
"Five additional fire trucks and a water dropping helicopter have been called in to help contain the fire," Riverside County Fire spokeswoman Jody Hagemann explained.
Eyewitnesses are reporting that firefighters on the scene have the fire surrounded,are saturating the blaze and cutting nearby brush down as a crowd of 50-100 people look on.
Video courtesy of Ashley Ludwig: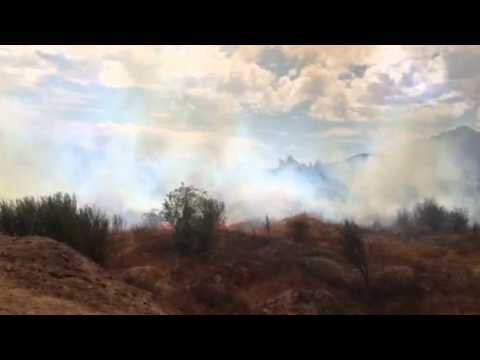 Firefighters used large hoses to dampen the surrounding brush.
According to bystander, Renee Del Rio, "I was on my way to Home Depot when we saw the flare up from our back yard. The fire department was on the scene right away."
Please check back with SWRNN for updates.
*Kerri Mabee and Ashley Ludwig contributed to this report.