This week's talk of the town goes high-tech as we talk with Brian Noland, co-founder of Anywhere Science of Murrieta.  Anywhere Science's LabStrip measures chemical strips, such as those you may use to measure pH balance and pool or spa chemicals.
But technical gizmos and gadgets are just the beginning of what is to come for this unique and highly portable scientific system.
A student of the Temecula Valley Chamber of Commerce's SCORE mentor program and a new mentor of the Temecula Valley Entrepreneur's Exchange, Noland paused in his marketing and fundraising push on the popular launch platform Kickstarter to talk about Anywhere Science, the LabStrip System for iPhones, and where they are headed from here.
Q: What inspired you to build this unique testing system?
A: I came up with the original concept in 2007. But, when the iPhone 4 came out (in late 2011) I made a prototype using Legos. I was shocked at how good the results were with such a crude setup. That was really the birth of LabStrip. Following proof of concept, I worked with Speck Design of Palo Alto on how to turn my crude designs into something more professional. I was then able to recruit my co-founder and business partner Cas Hoefman. He brought the software, app design, and Cloud services pieces that make this a complete system.
Q: You are tied in with the local communities of Temecula and Murrieta. How has this helped you to formulate your business idea, plan, and ultimate development of your idea?
A: I first met Hoefman on a recommendation from my SCORE mentor. Hoefman was, and still is, very active in driving meet-ups within the local software development community. He seems to know everyone doing software development in the Temecula and Murrieta area. We have also gotten connected with George Bennett's Valley Innovators Group, where we met Wayne Morris from Murrieta's Source One Product Development. We have been active with Bruce Coleman and Cheryl Kitzerow with the cities of Murrieta and Temecula, respectively. I am now serving on the Advisory Board for the new Temecula Valley Entrepreneurs Exchange. Both the cities of Temecula and Murrieta have been great at creating venues for entrepreneurs to network with each other, local service providers and potential investors.
Q: Can you explain your hopes for what Kickstarter can do for the entrepreneur inventor, like yourself?
A: Hoefman and I are both of the opinion that Kickstarter's value is less in the ability to raise money and more in the early product validation that it offers. It allows potential customers to vote with their dollars to pre-order the product without worrying about who has what equity in the company. In my opinion, that is the magic of Kickstarter over some other crowd-funding models. As much as we are anxious to have an infusion of cash to help us by injection molds, kit components and so on, we are more anxious to build some actual customer demand. This allows us to move the whole thing down the manufacturing learning curve.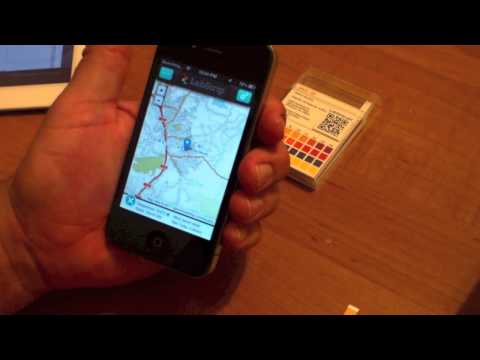 Q: Anywhere Science has applications both at home, in the classroom, and for businesses. What is your favorite case study for a product like this?
A: There are an almost dizzying number of application niches for the system including pool/spa care, aquarium/pond testing, beer brewing, wine making, water quality testing, and point-of-care diagnostics. Choosing a favorite is hard. My favorite is a longer-term dream of transforming healthcare in the most challenging parts of the world.
For example, imagine a rural health clinic in sub-Saharan Africa. A woman comes into the clinic 30 weeks into her pregnancy. The healthcare worker uses LabStrip and an inexpensive strip test to identify that this woman has protein in her urine. Her blood pressure, pulse, temperature, and blood glucose are then sent to the phone through low-cost Bluetooth-enabled devices. All of that data is then uploaded to the Cloud. The healthcare worker immediately diagnoses the woman with preeclampsia and gestational diabetes. She then communicates the seriousness of the condition to the pregnant woman's family and comes up with an action plan through coordination with other healthcare workers in the network who share this data in the Cloud.
This might sound far-fetched, but we have demonstrated feasibility on all elements that would be required in such a scenario with LabStrip, Anywhere Science Cloud, and our Sci-Fi Sensors (low-power, third-party Bluetooth devices).
Q: Many people talk about wanting to invent something, and you've managed to accomplish that. What is the best part of seeing your vision come to light?
A: It has been a rush seeing the idea take shape from Legos models to where it is now. I would say that the barriers to realizing an idea are lowering with each passing year and execution can happen with surprising speed. I would encourage those with an idea and some motivation to take a swing. We are happy to offer mentoring help to those who want to try.
For more information on Anywhere Science, Inc., visit http://www.labstrip.com.
To learn more about the Kickstarter campaign, check out  http://xs.la/labstrip.
Ashley Ludwig is a local writer and regular contributor to SWRNN.