Karen Robertson wants comedy fans to know that standup comics can indeed be funny without being crude, rude or using foul language.
She should know. Robertson, 69, a motivational speaker and retired longtime educator with the Murrieta Valley Unified School District, is part of a comedy foursome called 409 COMEDY – yes, as in 409 the cleaner. The group chose that name because, "It makes people think of something clean," said Robertson, who lives in Wildomar.
The other three members are Taylor Tomlinson, 18, a college student at Palomar Junior College and Temecula resident; Cory Clarke of San Marcos, a North County business owner; and John Hill of Highland, an associate pastor at Sunrise Church in Rialto. They met through the Christian Comedy Association and also from taking a comedy class a few years ago in Corona. The four banded together to do a clean, family-friendly comedy act. They write all their own material.
Robertson hopes that the local Christian community and others who are tired of foul comedy and swear words will come out and support the group, "So we can prove that there is a demand for clean, uplifting comedy."
Courtesy video: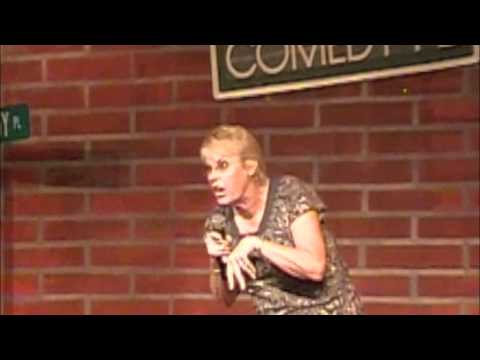 Robertson said people might be surprised how funny 409 COMEDY's brand of humor can be, without f-bombs in every sentence, getting cheap laughs and shock value.
"It's disgusting to tell you the truth," she said. "Every time I see a comic advertised I look them up on the Internet and see if I can get through them for a minute without a dirty word," she said, noting that many famous comedians like Bill Cosby, Bob Hope and Carol Burnett were popular for years without crudeness and foul language.
"When you do clean comedy, you're not hurting people, you're not insulting people, you're not downing anybody's ethnicity, you're not using swear words and you're not offending anyone. You work harder for your laughs. You have dig out what's really funny about life that everybody relates to. You're not going to get any cheap laughs," said Robertson, who likes to make fun of her age and aging in her routine.
Robertson, Clarke, Tomlinson and Hill perform for non-profits, churches, schools and businesses, appealing to all ages.
They have performed at venues and churches around Southern California and the Inland Empire, including the Pechanga Comedy Club in Temecula, the Aroma Coffee Shop in Murrieta, Robin's Nest Coffee Shop in Old Town Temecula and Murrieta Valley High School.
The group's members, together and separately, also have done open mic nights and charity benefits for church groups and other non-profits such as Michelle's Place; God's Extended Hand, a homeless shelter in the San Marcos area; Birth Choice; Single Passion; Student Venture; Eden Project, which supports reforestation in Africa; Animal Friends of the Valleys; Catholic Charities; and Breaking Chains, which fights human trafficking.
409 COMEDY will perform at 7:30 p.m. on Nov. 15 at the ACES comedy club in Murrieta.
Doors open at 6:30 p.m. and tickets are $15 per person. Alcohol and snacks are served at the club, and patrons must be 21 or older. Patrons also can bring in their own food.
The club is located at 39745 Avenida Acacias in Murrieta.
To learn more, visit www.laughyouraceoff.com. For tickets visit http://aces.laughstub.com/show.cfm?id=196338&cart or call 951-525-5653.
Amy Bentley is a local writer and regular contributor to SWRNN.