With clouds in the sky and a light rain hitting the ground, thousands of residents came out to show their support for a single cause — to find a cure for breast cancer.
Sunday morning's 5K race to fight breast cancer got underway at 9 a.m. at Temecula's Promenade Mall with the kids' race at 10:30 a.m. and awards handed out at 10:45 a.m.
More than 600 volunteers helped during the annual Susan G. Komen Race for the Cure, according to an event official.
Among the participants was Kathryne Whitford, who shared that 1995 — the year she was diagnosed with breast cancer — was a time should would never forget.
With a positive attitude and family support, she beat the disease, she said.
"I am a survivor," Whitford, said Sunday morning with a gloomy sky above. "My mother died of cancer when I was a senior in high school. She was 48."
Whitford added: "I had a lot of support from family, my husband and friends. It was just very difficult being half dead for six months. I went through surgery, chemo (and) radiation. I was very, very sick."
Whitford was joined by some family for Sunday's race.
"When we went through the survivor entrance, it brought tears to my eyes," Whitford said with her two daughters and their dog standing at her side. "We decided to make it a tradition every year."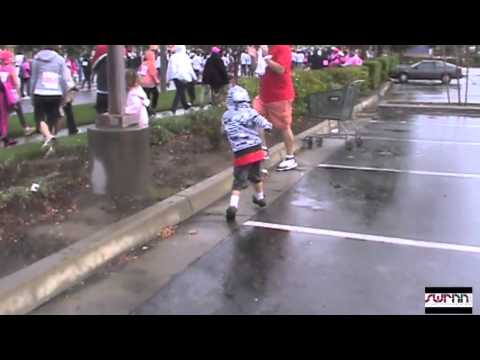 Knowing that many woman are fighting for their lives, Whitford offered, "Hang in there, don't give up and trust God."
"Life is a joy," she added. "I'm just grateful to god for a second chance."
Daniel Lane is a local photojournalist and regular contributor to SWRNN.