For the 12th year in a row, Santa Claus arrived Friday to light the Christmas tree at Promenade Temecula. And while a gusty breeze from the west kept his hot air balloon from rising off the ground, the balloon glow, music and holiday-themed fireworks spectacular went off without a hitch.
"We have some exciting numbers, including the chorus from Linfield (Christian) School and dancers from Prestige Dance Academy, singing and dancing with songs from Polar Express, the movie," Director of Marketing at Promenade Temecula Kym Espinosa, said. "We've been planning the Polar Express theme since September of this year and are very excited about our conductor."
The life-sized Hello Kitty and official Build-a-Bear mascots were on hand to greet guests while High Jinx performed onstage with renditions of blues, rockabilly, and of course, a Christmas tune or two.
While they played "Jingle Bell Rock" a buzz of excitement hung in the air. Children danced in the roped off area at center stage and, on the side stages, impromptu performances kicked into high gear.
"The Polar Express"-themed event was showcased with pajama-wearing dancers, and  "Hot Chocolate" and "The Polar Express" songs that culminated with "When Christmas Comes to Town."
Espinosa remarked on the feat of launching the event on the same weekend as "Twilight Saga's Breaking Dawn – Part 2″: "The new access road has made it so easy to put on all sorts of events out here throughout the year. This weekend, in particular, we've had two major events on the same weekend — Santa's arrival, along with one of our busiest movie openings in several years. It's been great."
Tree lighting, courtesy of Ashley Ludwig: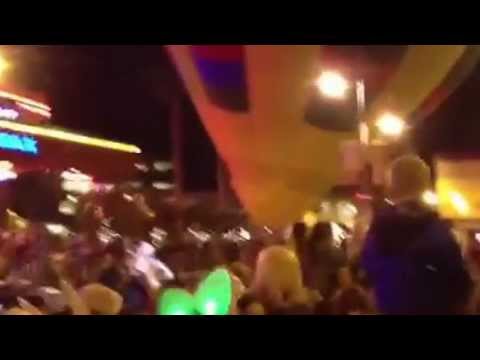 As for preparations for the holiday season at Promenade Temecula, Espinosa said: "We had remarkable traffic on Veterans Day, with our stores (inside and out) incredibly busy. It was an excellent shopping day. Now, with Black Friday coming, for the remainder of the year we'll be offering free valet service for our customers."
Snow at Promenade Temecula, courtesy of Ashley Ludwig:
Espinosa shared the news on another special treat: "Take the certificate you receive from the Valet service to Paradise Chevrolet for a $25 gift certificate good anywhere at Promenade Temecula. If you go for a test drive, they'll increase your gift card to $50. It's a fantastic citywide promotion this holiday season."
With Santa and the Polar Express in high gear, all eyes turned to the Christmas tree and some North Pole magic. At the man in red's prompting, Temecula counted down from 10 and shouted, "We Believe!" and with that, the tree began to gleam. And, of course, to the delight of all in attendance, Santa made it snow.
Old St. Nick will greet children at Promenade Temecula for the remainder of the holiday season, until he makes his way back to the North Pole.
For more information, visit Promenade Temecula, located at 40820 Winchester Road, Temecula.
Ashley Ludwig is a local writer and regular contributor to SWRNN.